AOF | 7 June 2019
If you work within a creative industry such as graphic design, computer programming, film, writing, fine art or music, you'll often be toiling away at your desk for hours on your latest project. Whether you work from home or in an office for a company, we have a broad collection of office chairs, office desks, storage and computer accessories available to help you create the perfect workstation for making those imaginative ideas a reality.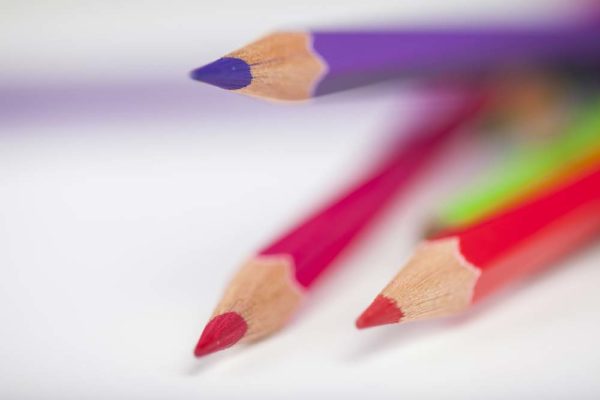 While typing away at your keypad to finish that big article or staring at your newest designs up on your computer screen, you'll want to be sitting in a comfortable, supportive office chair which meets your specific needs when working. We have numerous ergonomic office chairs with reliable, adaptable features & designs ideal for creative types tinkering away for long periods. With a built-in headrest & weight capacity up to 25 stone, the Yavin Mesh Executive Chair (below, right) features a high sculpted mesh backrest, seat height adjustment, adjustable armrests and a useful adjustable lumbar support for you lower back, all tied together with its synchronised seat & backrest mechanism, which shifts according to your seated position.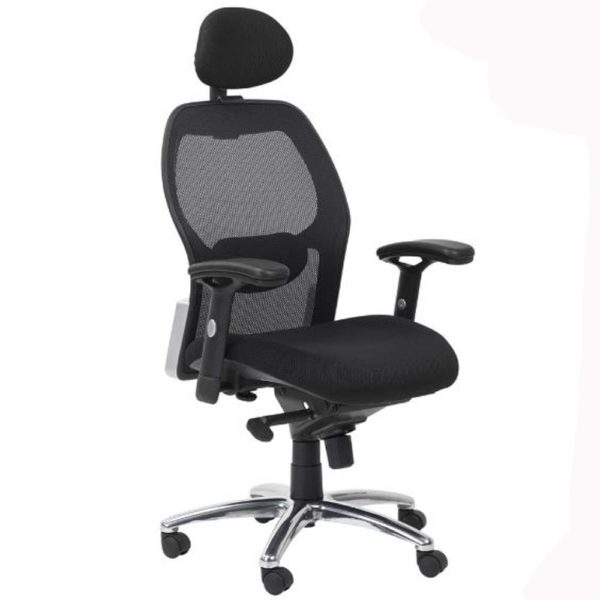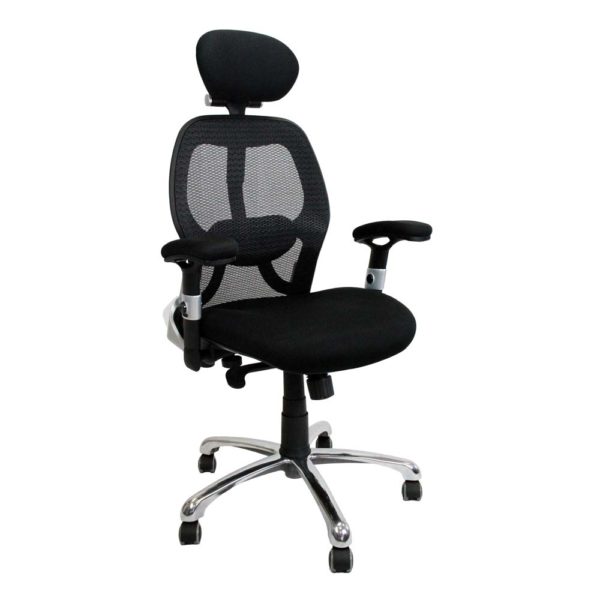 Suitable for 24 hour use, the ERGO Luxury Mesh Back Executive Chair (left) gives you another contemporary design in black mesh. At the top of its shaped backrest with built-in lumbar, you'll find an adjustable padded headrest for leaning back on, which matches its black fabric height adjustable seat pad, all atop a sleek chrome castor base for ease of movement. The Bestuhl E1 Mesh Office Chair in Black (below, right) provides another modern design in mesh, with a slightly lower back design, although this chair still features a curved backrest design which gives additional lower back support. Its fabric seat pad has a clever 'waterfall' front, too, which encourages better circulation in your legs & feet; ideal for those who are likely to endure long stints at the desk such a video editors or coding wizards! The back can be left locked or unlocked, depending on your preference and this combines harmoniously with its synchronous mechanism to allow for the entire chair to shift in tandem with you body movements & position as you work. As the icing on the cake, this chair's fully adjustable armrests allow for height and depth changes, which can really aide in maintaining a more ergonomically sound working set up specific to your daily work routine.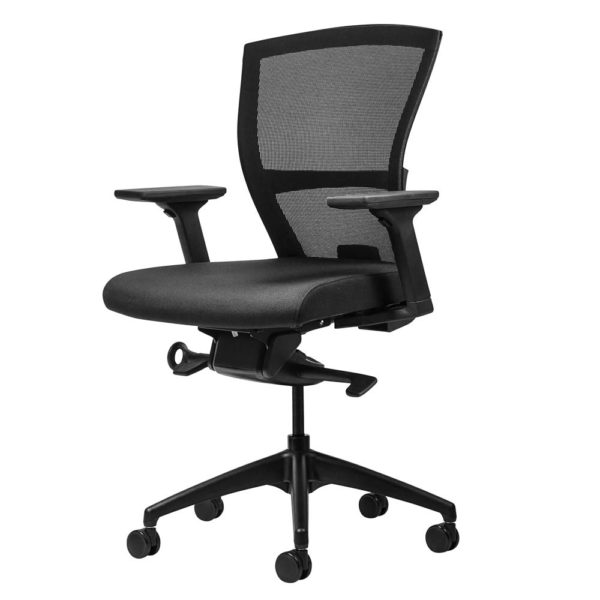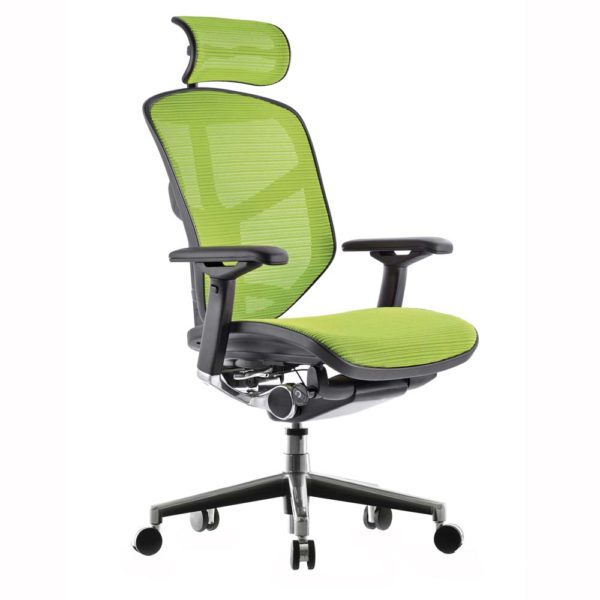 If you don't have the time to wait around, our Enjoy Office Chairs in black or green mesh (pictured, left, in green) are available for next working day delivery. A high end ergonomic solution, its seat height adjustment, back tilt and seat slide depth can all be conveniently controlled through its smart one lever control. Made from 97% recyclable materials and with an impressive 7 year guarantee, you even have the option of a fabric or leather model!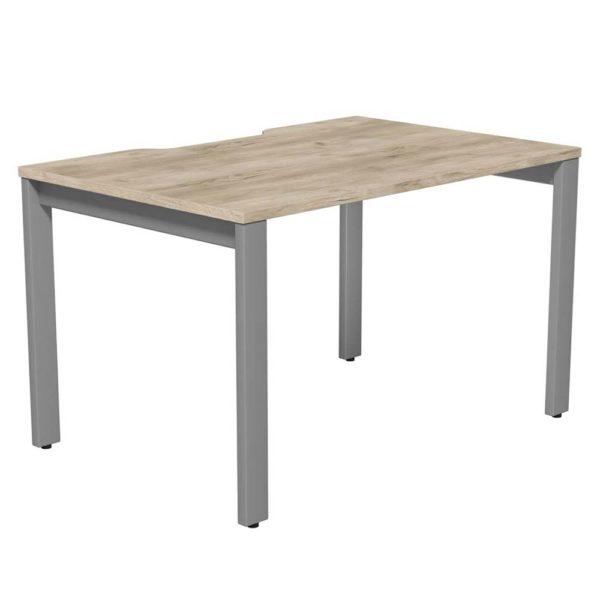 For you desk, we also have plenty of options to choose from. Our next day Unite bench desks provide hardy, robust and practical solutions suitable for a variety of work spaces. You can pick from a selection of wood finishes, such as our new Grey Craft Oak option (pictured, left, pole legs), desktop sizes and leg types, plus each unit features either portholes or scallops for cable management, especially vital for music producers or users of multiple computer monitors. If space is really tight, our range of corner desks, which can be configured as left or right-handed, will help make the most of your work area, fitting snugly out of the way thanks to their handy crescent design.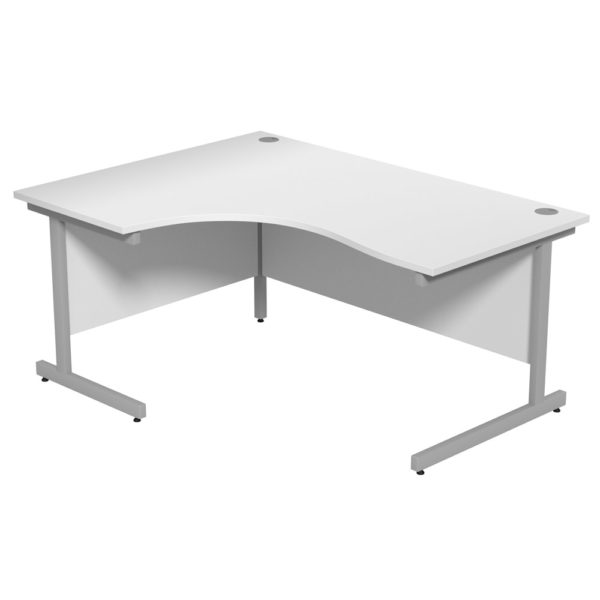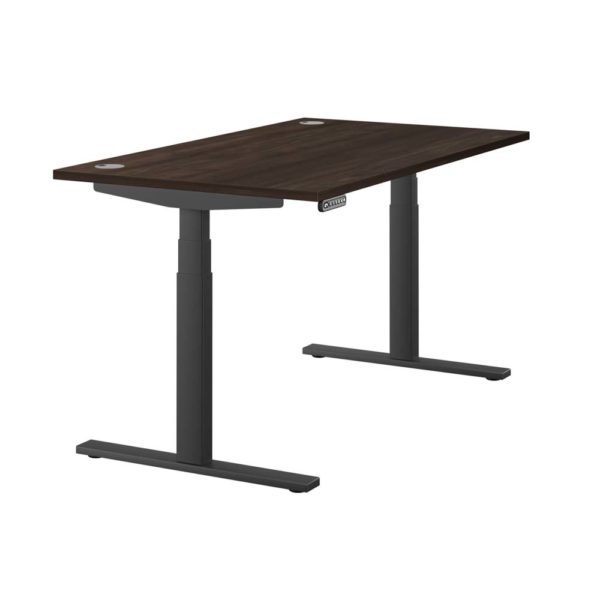 You may even want to consider our next day Unite electric height adjustable desks (pictured, left, in walnut), which allow for ergonomic sit-stand working. With an adjustment range of 655mm – 1255mm through their built-in control panel, you can choose to stretch your legs while working at your computer screen if you've been sitting down all afternoon, a practice which has been shown to help improve your overall posture, as well as circulation throughout the body. Having this kind of versatility & flexibility will make for a much healthier working environment when creating all day long and its weight capacity of 80kg means that you can still use your usual hardware for editing, typing or programming. We even have sit/stand converters (pictured, below right) if you don't have the budget for a sit/stand desk, which help to adapt your normal desk set up into a more ergonomic working space by providing a small electronically adjustable platform for your keyboard, placements for computer monitors and even USB inputs.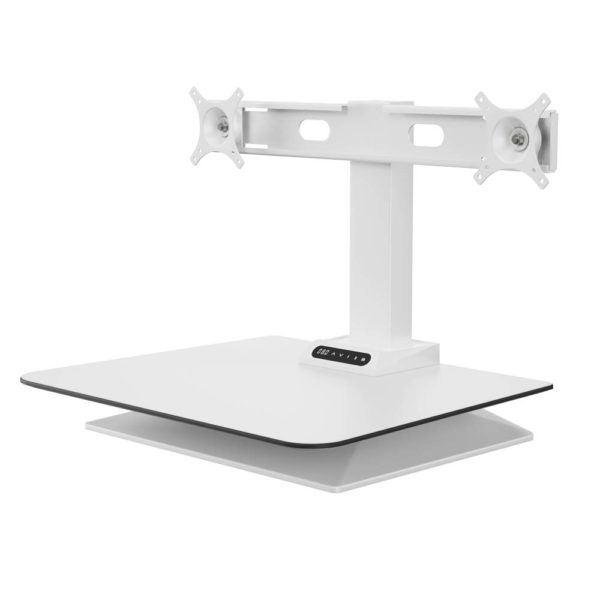 And finally, to go along with your desk, there are options aplenty for your computer accessories. Ranging from cable management items such as cable baskets or cable spines to help keep the wire gremlins at bay, to power modules and monitor arms such as our Double Monitor Arm (below, left) for two screens or the Single Spring Assisted Monitor Arm (below, right), you'll really be able to make the most of your creative work space with a few simple, cost-effective changes.