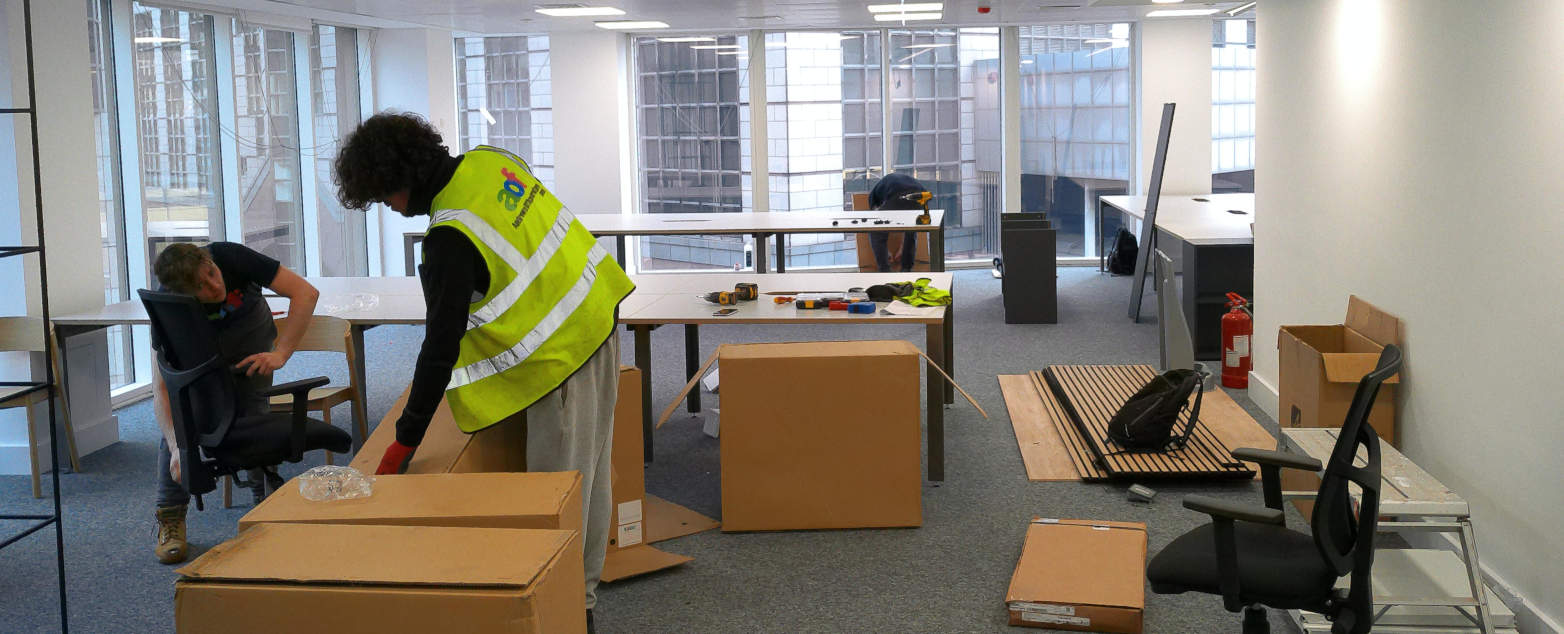 AOF helped us clear two floors of our office in central London. They've done great work, professional and trustworthy; I recommend.
If you're looking to clear out old office furniture, make space for new furniture, or relocate your business to another site, we are here to help! Our expert teams of drivers, fitters, and project managers will provide the man power, vehicles, storage facilities, knowledge, experience, and speed required for a smooth, hassle-free transition. Everything is organised in-house, so you can guarantee that your removal or relocation will be handled with care & consideration.
We cover London, Essex, the M25 areas, and Northampton, so give us a call on 0800 559 3917, or email our team at [email protected] to start today!
Office Clearances & Removals
When clearing out an old office workspace you'll want to get things done quickly. At AOF, we use our years of experience in the trade to clear or remove office chairs, office desks, filing, and all manner of storage units from your premises. Whether your space is a small private office or a larger office suite or block, we have the resources to deal with your request.
As a family-run business since 1972, we are in the desirable position of sorting everything in-house for you, from the initial enquiry, to planning, right through to providing the drivers and vehicles for the clearance.
We even buy your unwanted furniture and take it off your hands!
We Buy Used Office Furniture!
We offer competitive prices on all manner of office chairs, bench desks, filing & storage units, helping to get you a good value return for your goods. All you need to do is send us a few photographs and a short description of what you have, so that our buyers will be able to make a quick decision for you. Email [email protected] with the photos & description and we'll get back to you as soon as we can!
We are conscious of the environmental impact of removals and clearances, so, this way, you are able to recycle your office furniture for re-use by others, creating a much greener way of disposing of unwanted goods. If items are beyond repair, we recycle them for you with the minimum carbon footprint, giving quality used furniture a new lease of life!
Business & Office Relocation
Relocating offices? Our skilled drivers and fitters will transport everything across to your new site, handling all aspects of the project to make it as stress-free as possible. We can even organise the storage of your items if you need to clear your space, but don't want to relocate everything immediately. Then when the big day comes, we'll sort out the redelivery on a date that suits you. Even down to crate hire and the labelling of your goods, we've got it all covered!
A lot of companies will also need their new office space planned, which we can also help you with. Here at AOF we provide a FREE office space planning service, providing in-depth consultations, detailed CAD designs of your proposed space, and a complete office furniture fit to your exact specifications & needs.
To speak with us about clearing your office furniture or relocating your business, give us a call on 0800 559 3917, email us at [email protected], or come into one of our showrooms to get things started!
How We Can Help