AOF | 14 November 2019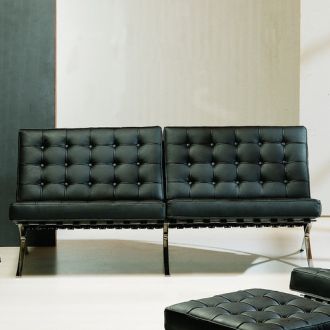 Breakout areas are frequently the first point of contact for the majority of visitors to your office. With that in mind, it's crucial that you help make a good first impression, and put your visitors at ease. One way to do this is with comfortable, supportive, breakout seating, and it helps if it's easy on the eye.
There are three basic types of breakout seating you should think about before kitting out your space; the practical (or traditional), the modern, and the replica. This week's post will focus on these three types, and shine some light on what they bring to the table.
The Practical
Practical breakout furniture design often takes inspiration from traditional values, like affordability and sustainability, and is more likely to be designed with functionality in mind, rather than appearance.
Faux leather and durable fabrics are traditionally used in the manufacturing of more affordable breakout furniture, such as the brown faux leather upholstery shown on our Rosa Two Seater Sofa in the image opposite. Practical breakout seating is ideal for anybody who is shopping on a tight budget, or those who receive fewer visitors, for less time. In these cases breakout seating would not be of such a high priority, and therefore budget models are more logical to purchase.

The Modern
As the years roll by, the furniture world has seen a shift in values. Designers are constantly trying to innovate with never-before-seen styles, although practical, "budget" furniture is still sought after.
One recent prime example is the trend in breakout or meeting pod designs (see image opposite). Designed to allow for more privacy in a hectic and fast-paced modern office environment, we are seeing more styles & ideas emerge. These include different shapes, finishes, materials, and the addition of in-built tables to recent meeting pods, including our very own.
Modern meeting pods are perfect for anyone who wants to keep up with the cutting edge of furniture design. These pods are gaining in popularity and will be seen a lot more regularly as time goes by.

The Replica
The way of the world dictates that, as with any industry, only the strongest will survive. When it comes to furniture designs, most fall by the wayside eventually. However, occasionally, a design is so innovative, so captivating, or so comfortable, that it triggers a flurry of replicas.
Famous furniture designers whose works are constantly imitated include the likes of Charles & Ray Eames, Le Corbusier, Ron Arad, & Marcel Breuer. Designer furniture lovers often prefer replicas, because they do not want to pay thousands of pounds for an original. This production pattern is testament to the brilliance of these classic designs, and help them stand the test of time.
Check out our very own designer chair replicas, including designs based on the likes of Charles & Ray Eames', & Le Corbusier's famous works.