AOF | 18 July 2019
Now that summer is here, the weather is warmer, and the evenings are longer, it's a great time of year to spend some time relaxing in the sunshine. Whether in your garden at home, dining outside with friends, or simply grabbing a quick pint after work, our selection of outdoor seating and outdoor tables are the ideal way to create an inviting, informal space out under the sun.
Situated on a quiet patio or outside a busy cafe, we have a varied range of outdoor dining chairs which are a great place to start when furnishing your space. Our Dawson Stacking Chair, Dawson Aluminium Armchair, Dawson Aluminium Bar Stool, and matching Dawson Round Dining Table (below) each feature robust yet lightweight designs perfectly suited to outdoor use, where they can be easily moved around when the unpredictable British weather decides to turn! With each chair model featuring sleek aluminium slats and most having a stackable design, these are great all rounders for different outside areas.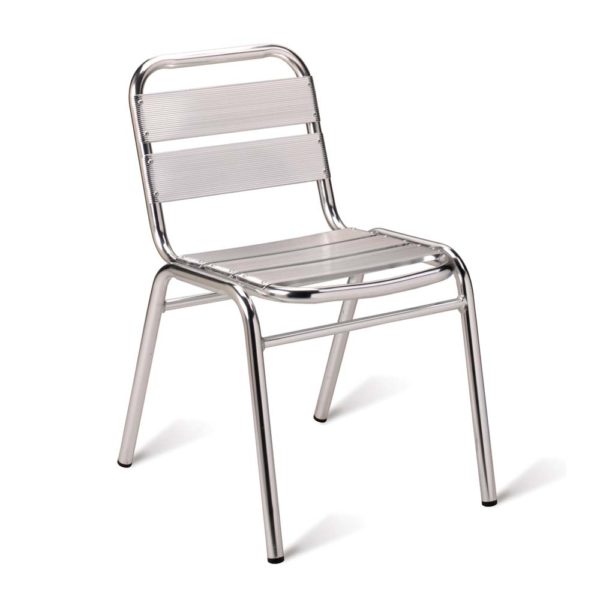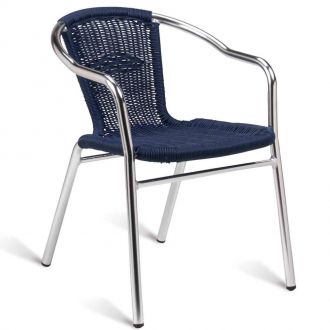 Also stackable for economical storage when not in use, we have the more traditional-looking Griffiths Stacking Chair with a navy blue (left) or natural finish wicker seat & backrest, contrasted with their sturdy aluminium frame. Providing a seating solution which is both informal & comfortable to sit in of a summer evening, the wicker design also provides a more ventilated chair during the hot weather. Another alternative is the Hunter Stacking Side Chair with Fixed Arms (below), which has an ebony resin weave construction, strong aluminium internal frame, a design which is stackable and the option of a matching Hunter Coffee Table (below) for the full set.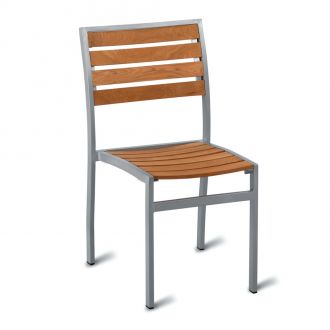 With solid teak slats throughout, our Reardon range includes the Reardon Stacking Chair (left) and the Reardon Stacking Chair with Fixed Arms. Both sit on a reliable EPC aluminium four leg frame, which stands out nicely against the wood finish, and are stackable up to six chairs high. So, once you've finished that family barbecue, they can be quickly stored out of the way until the next gathering.
To be used in combination with these chairs, we also have some compact little tables to furnish your space. Including a plastic-topped round or square option, the Reardon range gives you a choice of these with a fully matching teak slatted top, too. Sitting on an aluminium cross base with slender aluminium stem, whether you choose the Reardon Square Coffee Table with Teak Top or the slightly smaller Reardon Round Coffee Table with Teak Top (both below), you'll have an elegant outdoor furniture set which really catches the eye. Not just for domestic spaces such as garden areas or patios, our Reardon furniture would be equally at home, as would our other outdoor furniture, in cafes, restaurants, bars, or other exterior dining spots.