AOF | 30 August 2019
On our latest office furniture blog adventure, we will take you through our range of multi-user bench desks. Available for FREE next working day delivery across London & M25 areas, these workstations come in a selection of attractive wood finishes, with a choice of desktop size, leg style and cable management, too. However big or small your work office space, our skilled in-house drivers/fitters will deliver & install your new desks for FREE to your specifications, so come on in and take a look at what's on offer!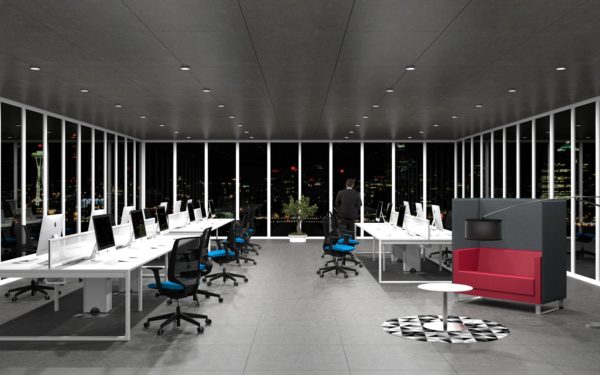 In a busy modern office, making the absolute most of you work space is paramount. The general layout of your office building will, in many ways, determine the room you have to work with, but an efficient way to maximise the area your employees & colleagues toil away in is through your choice of office desk. Luckily, here at Andrews Office Furniture, we have plenty of bench desk options for you to consider.
Our Unite multi-user bench desks and workstations provide spacious, functional solutions to your space issues by creating an economical bank of desks where more than one person can work, cleverly positioned to save floor space for you. You might want to start with our smaller models designed for two people. The Unite 2 Person Bench Desk with Pole Legs (below, right, in grey craft oak), which also comes in a closed leg or A frame design, gives you options for your desktop wood finish, length, depth, cable management system and even leg colour, so you can really tailor this desk to match your office's decor and feel. Sitting back-to-back, these bench desks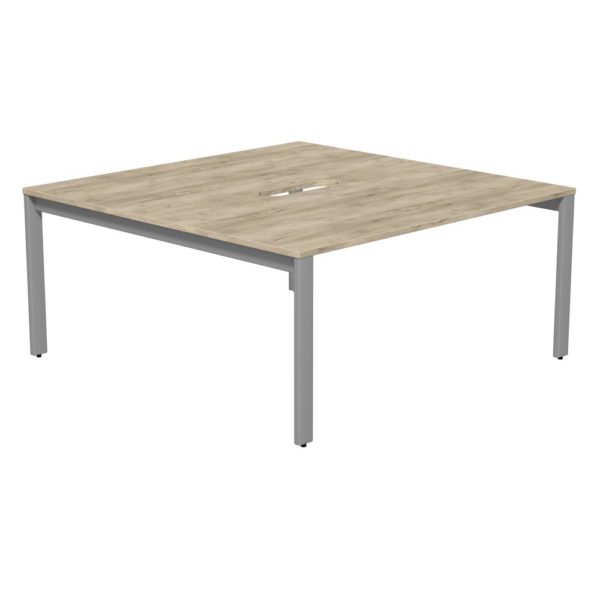 would be an ideal choice for small businesses.
With the same next day beech, grey craft oak, maple, walnut or white wood finish options, our Unite 4 Person Bench Desk with Square Legs (below, left, in walnut) ups the ante again for even more working space. Whether you choose cable management portholes or scallops at the back of your desktop, everyone's computer leads will be kept tidy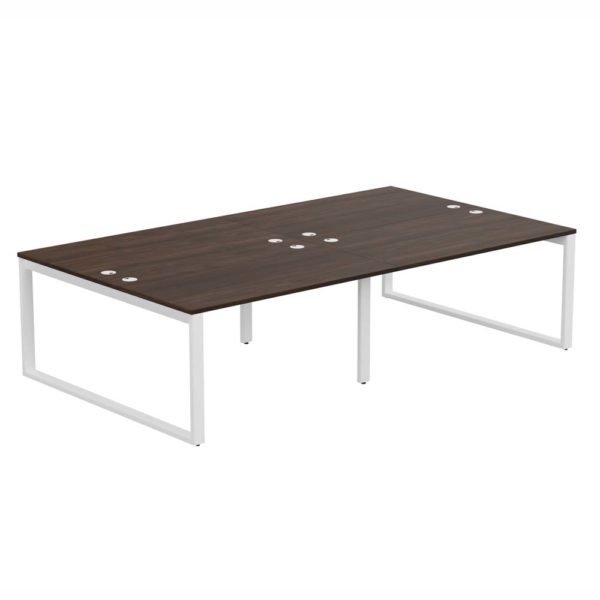 with this bank of desks, so you won't be getting in each other's way! If the closed leg design isn't for you, you can always go for the A frame or standard pole leg if you fancy.
Larger companies and offices, including 'hot desking' environments where desk spaces are shared on a day-to-day basis, may want to consider our Unite 6 Person Bench Desk with A Frame Legs (below, left) or the impressive Unite 8 Person Bench Desk with Pole Legs (below, right), for the king of bench desk workstations. Both with cable baskets underneath your desktop, they give you the advantage of ample desk space without the footprint as they avoid lots of desks being spread around the office in different locations. With 1200mm, 1400mm or 1600mm bench desk lengths available for next working day delivery, you'll be up & running in a flash!
As well as providing FREE delivery & installation for these bench desks, we also have matching next day office storage to get you organised and offer a FREE office space planning service, too, where we plan, design & install your new office space in just two days!