AOF | 25 October 2019
Creating a new office space or refreshing your current work area, but your budget's tight? Then, our varied range of second hand office furniture could be just the ticket, with a selection of used office chairs, office desks, and storage at a fraction of their normal price. What's more, many are in stock for next working day delivery & FREE installation to London/M25 areas, so you won't have to wait around!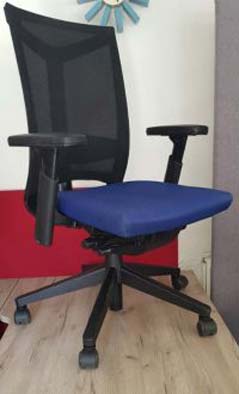 If you are looking to furnish your work space, you don't always have to turn to brand new office furniture. Saving you money, second hand office furniture is a much more cost-effective way to update your working area, whether large or small in size. And a good place to begin is with your office chair.
Starting from as little as £35.00 + VAT for the Second Hand Mesh Back Office Chair or only £50.00 + VAT for our Second Hand Mesh Office Chair (left), which features a breathable mesh backrest, seat height adjustment, a built-in lumbar support for you lower back region, and a lockable back tilt feature, you'll be able to add your latest seating solution for much less than it would be if purchased new. From executive style chairs, such as the Second Hand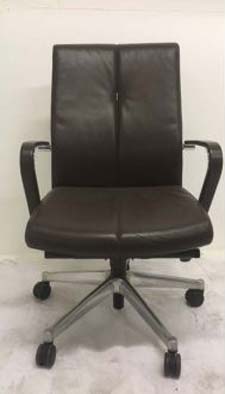 Klober Nimbus Executive Chair (below, right), to basic operator chairs such as our Second Hand Fabric Operator Chair, we have an eclectic choice of chairs for you to pick from.
Among our used office chairs, you'll also find numerous second hand designer office chairs from well-known furniture brands such as Orangebox, Humanscale, Vitra, Steelcase, and Enjoy, without the usual daunting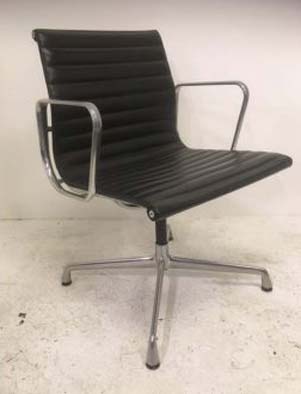 price tag. We even have used Eames chairs, such as the Second Hand Eames ICF EA108 Black Leather Office Chair (left), for a true design classic at a more reasonable price, with a sleek ribbed black leather upholstery finish combined with contrasting aluminium arms & swivel base.
In addition, we have second hand Herman Miller office chairs, including a collection of their world famous Aeron Chairs (below, right), reconditioned and as good as new. Packed full of ergonomic adjustments & features, these are the ultimate office chair and worth snapping up while they last, at a great price of just £385.00 + VAT!
To go along with your office chair, we have an eclectic choice of used office desks and bench desks, too. In numerous sizes to suit different
office spaces, you can choose from compact models such as the Second Hand White Desk - Cantilever Frame (below, left), which features handy cable management portholes in its 1400mm length top, or other alternative wood finishes, such the Second Hand Executive Desk in Cedar or the Second Hand Light Oak Cantilever Desk.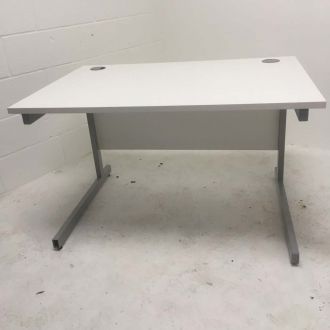 If you need built-in storage as well, which is especially useful in smaller work spaces, you could go for the Second Hand White Desk & Pedestal or the sophisticated Second Hand Executive Desk with Credenza (below, right), which has an eye-catching dark walnut wood MFC finish across the whole workstation, plus the convenience of the featured credenza with three stationery drawers & one cupboard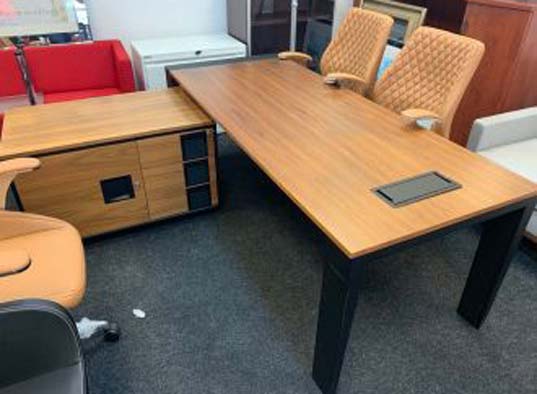 compartment.
For keeping your work area tidy & organised, our second hand office storage collection provides yet more options at a reduced price. For your important work documents, we have our Second Hand Four Drawer Filing Cabinets (below, left), which are only £60.00 + VAT and feature a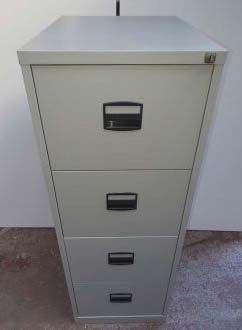 neutral light grey steel finish. Fully lockable for security, they come in at a fraction of their normal price and in good working condition.
Our Second Hand Office Cupboard comes in white steel with an attractive walnut wood MFC top, plus an interior shelf, too, if you need to store box files, personal belongings, or office stationery out of the way. Like the above filing cabinets, this cupboard is also lockable, so the contents stored inside will be safe while you're out of the office or at your desk working.
You might not have the room for larger filing cabinets or cupboards, though. For those who have a more restricted space to work with, we also have a handful of second hand pedestals, such as the Second Hand 2 Drawer Beech Mobile Pedestal (below, right). Featuring a top stationery drawer and a lower foolscap filing drawer, it provides space-saving under desk storage which doesn't get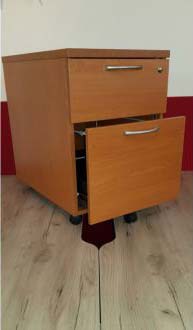 in your way, so perfect for home offices as well.
So, if you need to add some furniture to your office, but don't have the funds to purchase all new items, our second hand office furniture range could be a great help in saving those pennies. Order online, call us on 0800 559 3917, or visit one of our furniture showrooms to see what's on offer.