AOF | 20 March 2020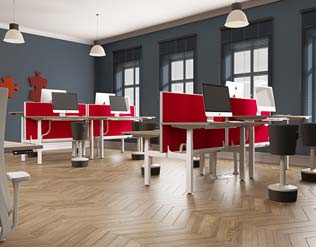 Every industry must evolve to meet the growing demands of the people, and the office desk industry is no different. As people look to optimise their health in every way possible, ergonomic furniture is the new goal. These facts paved the way for sit stand desks, which are also commonly called height adjustable, standing, or ergonomic desks. With that in mind, here's our brief guide to the sit stand desk.
Sit Stand Desks
Ideal for the home or office, sit stand desks give their users the option to work while seated or standing. It's as simple as that really. Many studies have shown that these height adjustable desks help to maintain your physical and mental health. Just switching between these two positions allows your body to move and your brain to work better.  This also leads to a better mood and increased productivity.
While earlier models used manual crank handles to adjust the desktop's height, electric control panels are more prevalent today. There are models with simple mechanisms that only go up or down, and there are more complicated models. For example, there are some which allow you to have multiple preset positions.
Sit Stand Bench Desks
The Sit Stand Bench Desk is, as you might expect, a height adjustable desk, embodied in the style and structure of the office bench desk. This includes a shared leg mechanism, which allows for extra leg room under the desk, extra floor space, and an all round more efficient work area. Furthermore, if you set the height adjustable bench desks up in banks of two, four, six, etc, you can also use them as individual desks, or as one much larger work-space, if all desktops are aligned at the same height.
Sit Stand Converters
A great way to get the benefits of sit stand desks without parting with as much cash, is to get yourself a sit stand desk converter. Also known as a riser, this handy piece of equipment allows you to raise your keyboard, mouse, and monitor screen quite away off from the surface of your desktop. This essentially turns any regular desk into a sit stand desk, and is especially useful because you can carry it with you anywhere you may go.