AOF | 10 May 2019
Helping to create a healthier, ergonomic working area, our range of sit/stand office desks & desk converters are the ideal choice for the health-conscious worker or those with back problems, especially if you spend long hours at your computer during the day. Allowing for more flexibility than static office desks, these height adjustable solutions encourage a better posture and allow you to work in your preferred position, whenever you feel the need to change.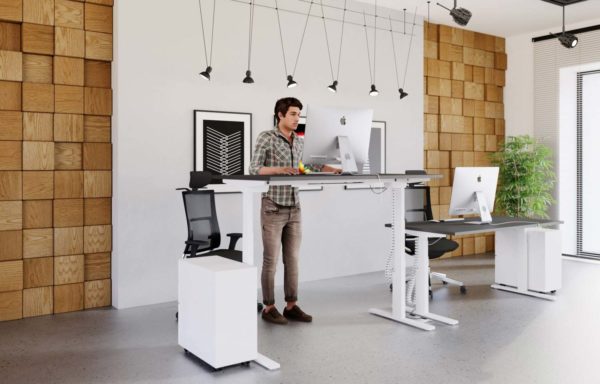 If you're tired of feeling uncomfortable & cramped during your work day or suffer from health issues which affect your ability to concentrate due to the pain caused while typing, sit/stand height adjustable desks might just be the answer for you. Giving you a more adaptable working space which you can fully control to suit your specific requirements, day in and day out.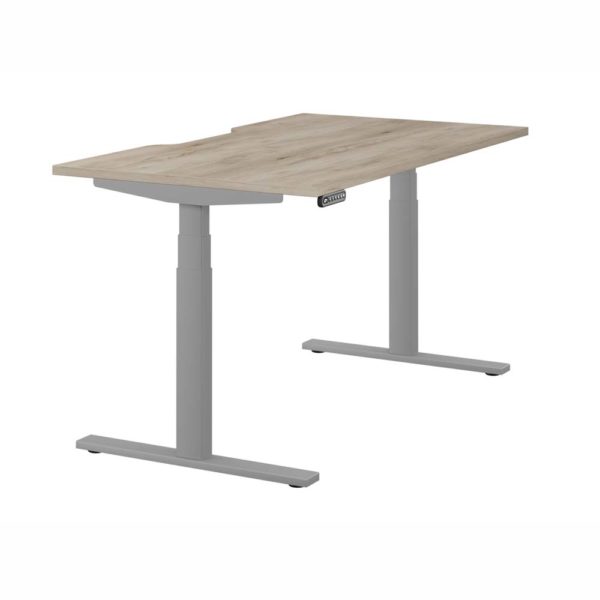 If you are in need of a sit/stand desk option and don't have the time to wait, our Unite electric height adjustable desks are the perfect choice. Available in various desktop sizes, wood finishes, leg colours and cable management styles, the desks feature a useful electric three button memory master control panel, which has an LCD display and can remember your preferred heights. This means that you can move to your favourite positions when working for maximum comfort, even over a long day, at the touch of a button.
Moving at 40mm per second, you'll have a height adjustment range of 620mm - 1270mm (including desktop), so you can sit down when you feel the need, or choose a higher setting when you want to stretch your legs and work standing up. And the anti-collision software returns the desktop to its previous position if it encounters an obstacle, avoiding any desk damage while adjusting your workstation. Coming with a free cable management cage, the desktop has a maximum weight capacity of 125kg, too, so you'll have no trouble using multiple monitors at once or piling up books as you type away.
If you don't have a lot to spend on your new height adjustable desk, we also have our Budget Height Adjustable Desk - Silver Frame, which is only £385.00 + VAT and in stock for next working day delivery. In a selection of wood finishes & sizes, it's a real steal at such a low price, giving you a fully ergonomic standing desk which comes bundled with a whole host of handy features, without the scary price tag!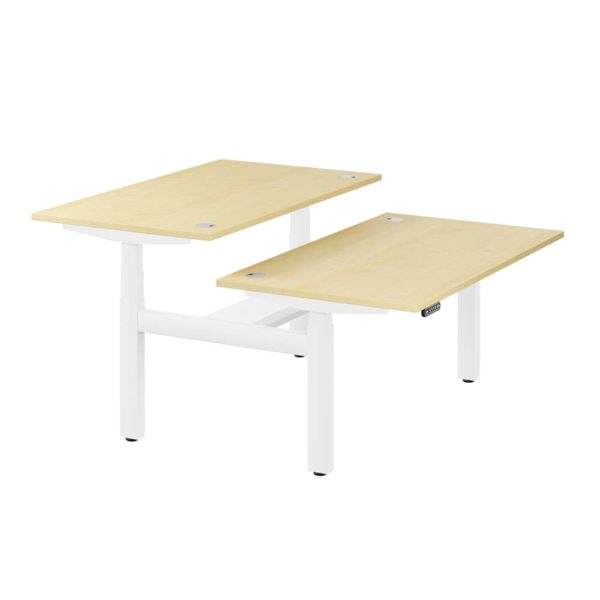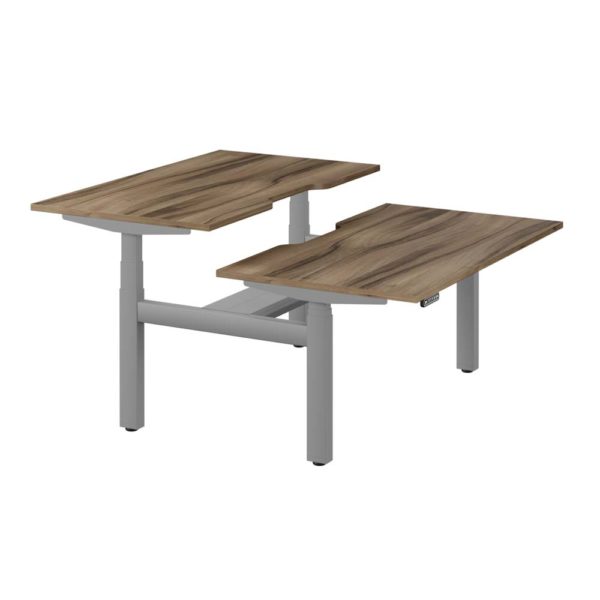 We even have twin sit/stand desk models, which give you the same choice of sizes, wood finishes & leg colours, with the further option to form one larger desktop or two smaller desktops back-to-back, making them ideal for design teams, film editors and music producers, where multiple screens or worktops are needed.
And finally, if you don't have the budget or actual need for a full height adjustable desk set up, we have two sit/stand desk converters which attach to a normal static desktop and allow you to stand while typing or using your monitor, thanks to their electronically-controlled platforms. In white, both models feature two USB ports for device power, with the Sit/Stand Desk Converter (below, left) featuring a single in-built monitor mount and the Sit/Stand Desk Riser (below, right) providing two.