AOF | 18 October 2019
In staff rooms, workplace canteens, cafes, or restaurants, practical dining furniture which is also attractive is a key element to providing a welcoming space for users. Here at Andrews Office Furniture, we have a varied choice of dining chairs & dining tables to help furnish your eating area, at a price which is affordable, whether it's inside or outside.
When hunger strikes and lunch time comes around, having a comfortable eating area makes all the difference when at work. Giving you some time away from your desk and the opportunity to catch up properly with your colleagues, you'll want to sit down in an inviting dining space which is both informal and relaxing. And our range of dining chairs & dining tables means that this is easily created without breaking the bank.
Our dining chairs come in all shapes and sizes to suit a number of different needs. Based on the famous 'Keeler Chair', our Turner Dining Chair (below, right, in maple) comes in a wenge or maple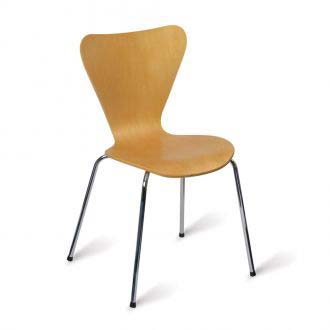 wood veneer finish and features a chrome base beneath its elegant, shapely seat & backrest. What's more, it's stackable up to six chairs high so can be stored away easily when no longer in use or when extra floor space is needed.
Also in wenge or maple, the stackable Cox Dining Chair (left, in wenge) features the same slender chrome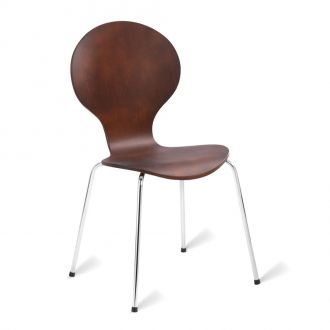 four leg base, but with a rounded backrest instead, for an alternative option.
Again with a more traditional touch, the Griffiths Stacking Side Chair in Navy (below, right) provides a stackable seating solution for dining spaces, but with a subtle navy blue wicker seat & backrest atop an aluminium base, which all make this side chair an ideal choice for outdoor areas, too.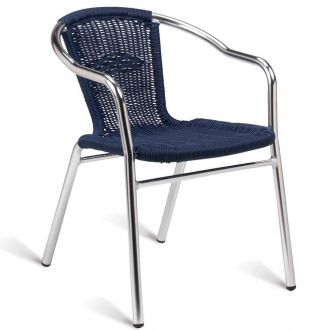 With a wooden four leg base and plush cushioning beneath its faux leather upholstery, the Bernstein Dining Chair (below, left) comes in various faux leather finishes and with a broad range of leg finish options to match the aesthetics of your dining area, where it can offer an informal feel while adding a splash of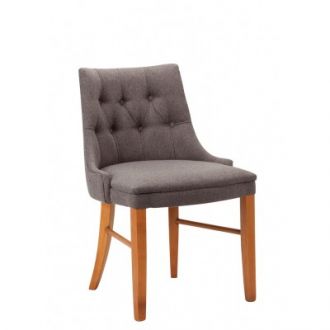 sophistication. Featuring more of a 'lounge' feel, it would be a great choice for cafes or restaurants where users will be chatting away of an evening or taking a long lunch during the week.
For added colour in your dining area, our Davis Side Dining Chair (below, right) could be your new seating choice. On a black steel 'Eiffel' base, it has a ridged polypropylene seat shell with a quirky overall design that will certainly catch your eye! The selection of vibrant colour finishes also gives you the flexibility to complement your space's decor scheme more effectively, for a more coherent overall feel.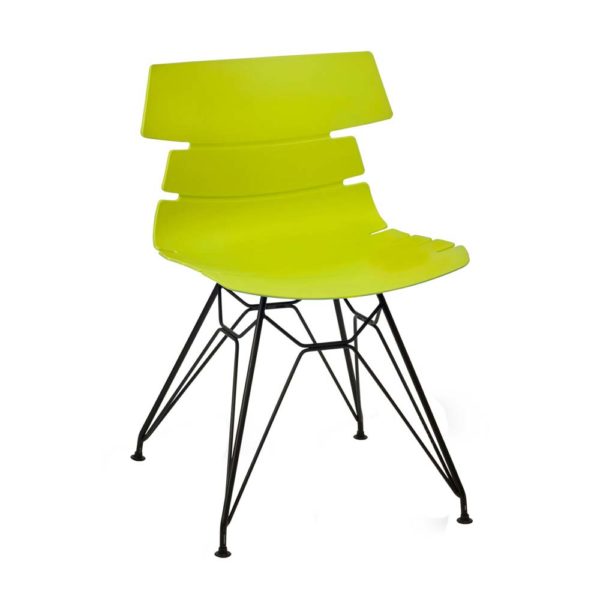 If you have a high bar or eating bench in your dining area, we also have taller stools such as the Howard High Stool (below, left), which can also be used in the home inside a smaller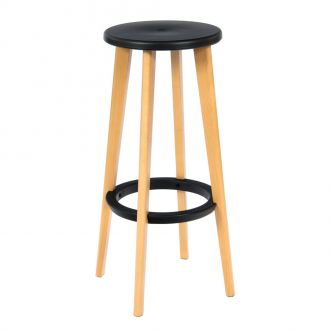 kitchen space, too.
To pair with your dining chairs, we've also got an eclectic range of dining tables to add the finishing touch to your eating area.
The Dawson Round Coffee Table (below, left) has a sleek stainless steel top above a sturdy aluminium stem & cross base, allowing for lots of room for users to enjoy their lunch around. It can be matched with other Dawson seating for a full, matching furniture set, and is perfect for outside dining spaces during those hot summer months.
The Reardon Square Coffee Table with Teak Top gives you a slatted solid teak table top above an aluminium base and a design which is suitable for any number of dining areas, whether large or small. Available with matching Reardon chairs, this table is compact enough to save on floor space, but spacious enough to offer an eating area for small groups during their work lunch hour.