AOF | 1 November 2019
Looking to create a new office space and can't wait around? Then, our Unite range of next day delivery office desks, bench desks, and office storage could be the answer you're looking for! Available in a selection of wood finishes and with numerous other options to customise your furniture choice, we'll install everything for free and get them over to you for the next working day in London & M25 areas, for a fully matching office space.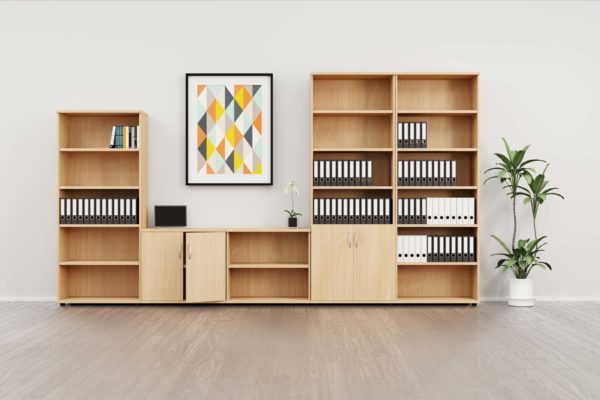 Creating coherence in your office can be achieved through organisation & tidiness in your work area. But to really get an office suite which flows and embodies a complete aesthetic, you'll need to get yourself some matching furniture so that everything is connected as a whole. And our next day Unite range can help you create this in no time at all.
Featuring a varied collection of office desks, bench desks, and wooden storage items, we've got everything you'll need to build a new work space which encompasses a complete practical suite and looks elegant as well.
Available in a choice of sizes, as a panel ended or cantilever frame model (shown below), and in beech, grey craft oak, maple, walnut, or white wood MFC finishes, our Unite office desks provide robust yet attractive desk solutions suitable for many different office space types.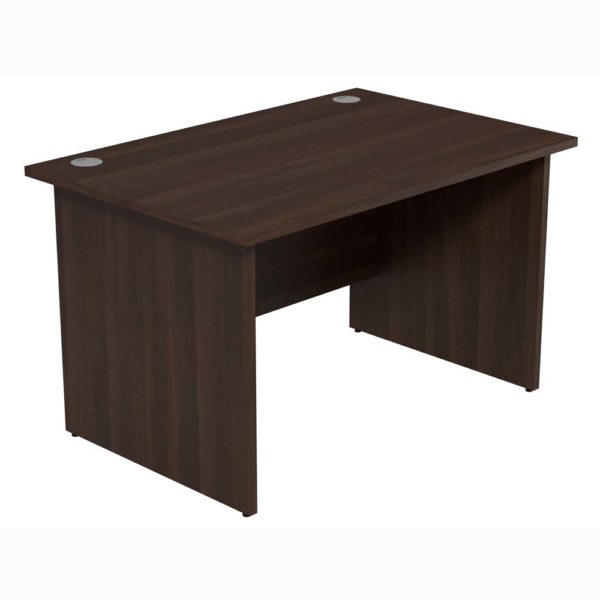 Both leg types feature cable management portholes for your device leads and range from a compact 800mm x 600mm desktop to the larger 1600mm x 800mm model if you need more space to work in. Each desktop style comes with a modesty board beneath and the cantilever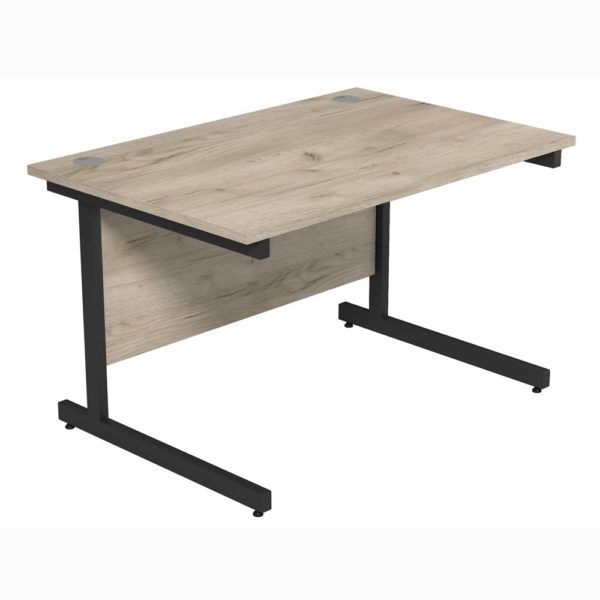 frame desk gives you the option of a black (right), silver, or white leg finish as a contrast against the wood finish.
For a more ergonomic, space-saving desk design which would be ideal for home offices or studies, you could even go for our Unite Corner Desk - Panel Legs or the Unite Corner Desk - Cantilever Frame (below, left, in white), in the same selection of wood finishes & cantilever colours. What's more, you can choose a left or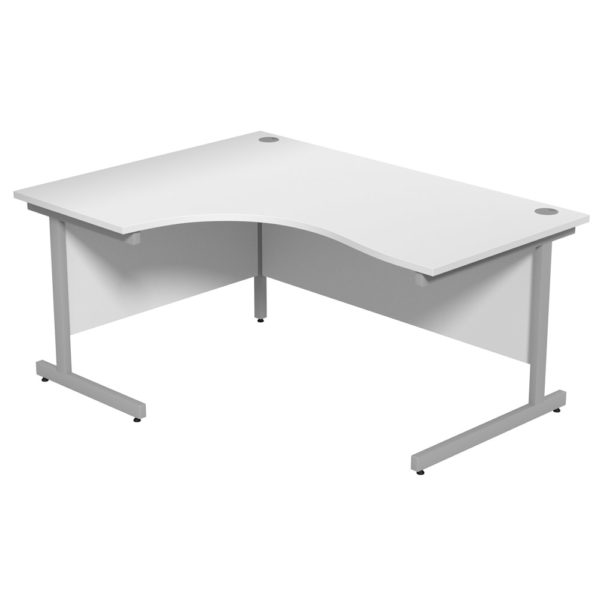 right-handed desk configuration to suit your needs.
Another alternative for your new office desk could be one of our many next day Unite bench desks. In stock as single, 2, 4, 6, or 8 (below, left) person models, they come in grey craft oak, walnut, or white wood finishes and with a pole leg, angled 'A' frame (below, right), or closed leg base in various steel colours. Ideal for 'hot desking' offices where desk areas are shared on a daily basis, you'll have a hard-wearing, resilient office desk which also comes with portholes or scallops in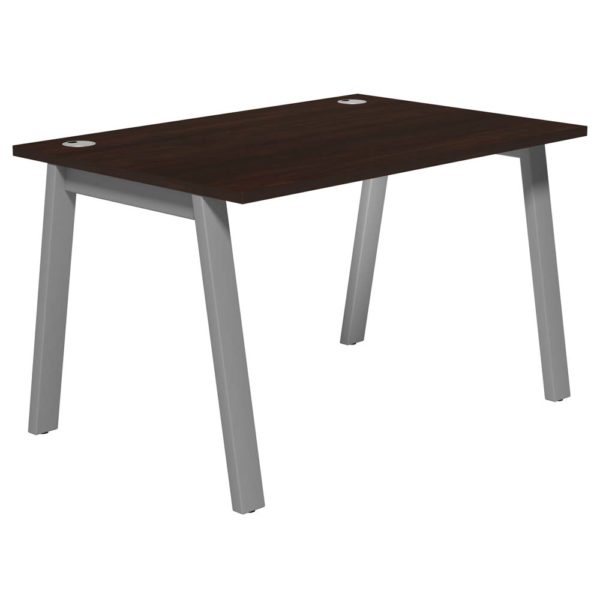 the desktop for useful built-in cable management.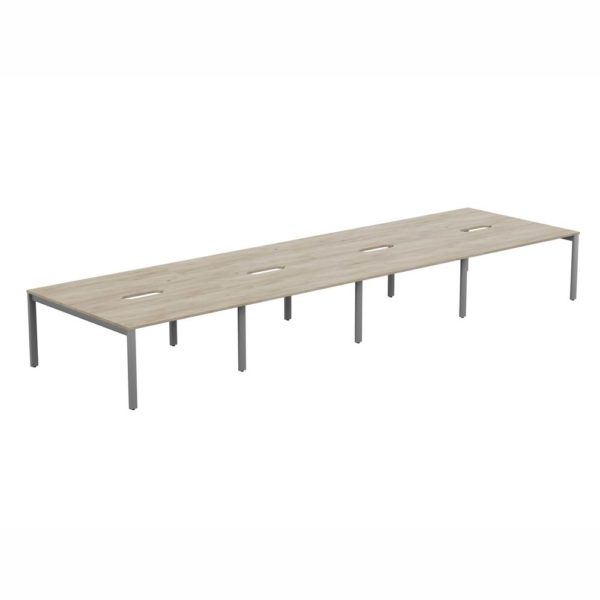 To go along with your chosen desks or bench desks, we also have lots of fast track office storage to match with them and complete you office's overall design scheme. Not only are they practical in terms of organising your important work files, documents, and stationery, they'll effectively create the coherence mentioned earlier.
For storage & filing right by your side, we have two drawer (below, left) or three drawer (below, right) mobile pedestals, which fit snugly beneath your desktop. In stock in matching wood finishes to the Unite desks, they are fully lockable for security and are a quick, effective way of clearing the clutter from your work area.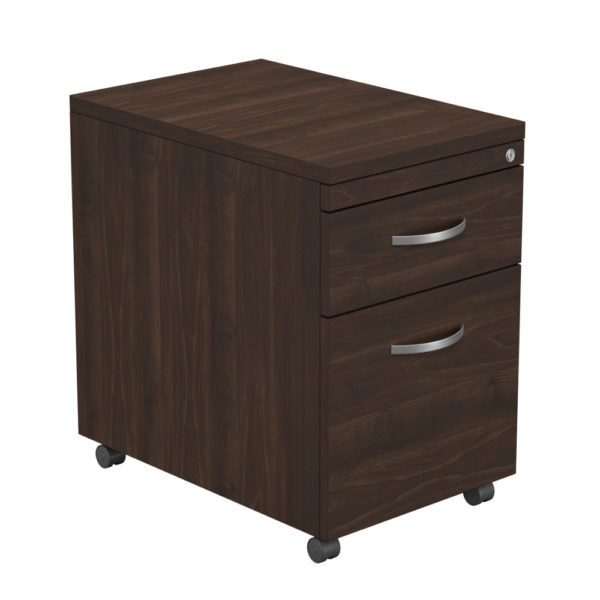 For an extension to your desktop, we also have the Unite Desk High Pedestal, which sits level with your desk while providing convenient, lockable storage. Its lower third drawer is designed for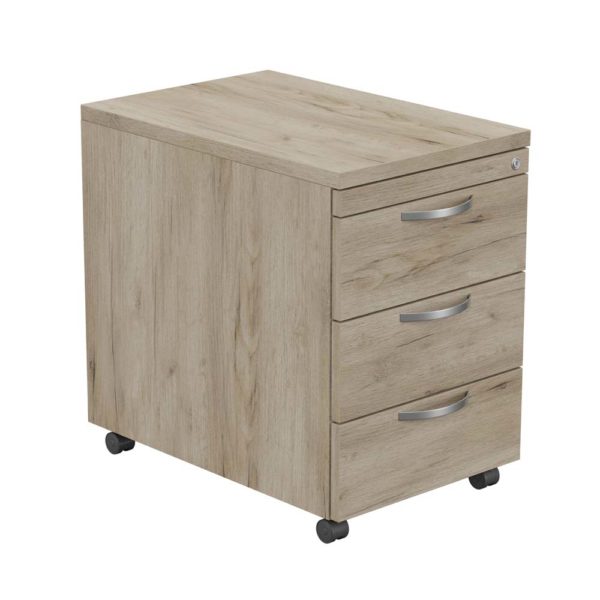 foolscap files, too, so all of those crucial work documents can stay organised and close-to-hand for when you need them.
Moving away from your desk area, there are further storage solutions still. In stock in a collection of different heights, our Unite wooden bookcases (below, left, in 1490mm height) come with sturdy shelves, a strong 25mm wood MFC top, and resilient back panel, for reliable storage which is an ideal choice for smaller home offices. They are also designed for organising A4 files, so they help create an efficient space to store your work documents out of the way, while still being easy to access.
In the same next day wood finishes and matching height options as well, the range of Unite wooden cupboards (below, right, in 770mm height) we have to choose from provide lockable office storage which are also compact to save on floor space. With keys and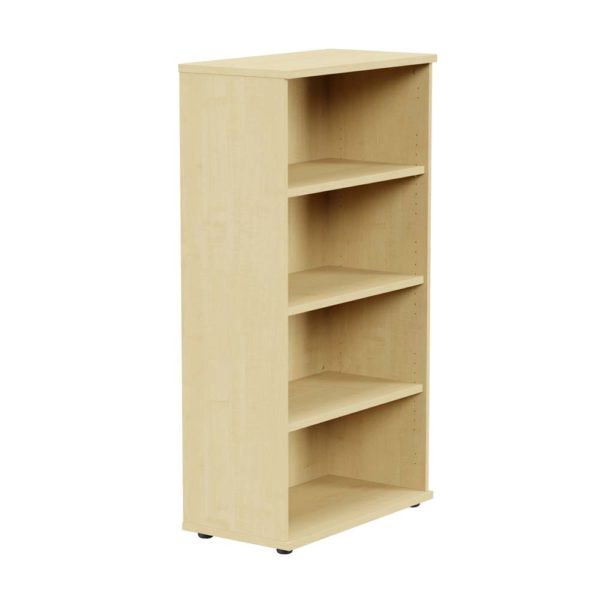 varied numbers of shelves depending on your choice of cupboard height, they can be coupled nicely with your bookcases in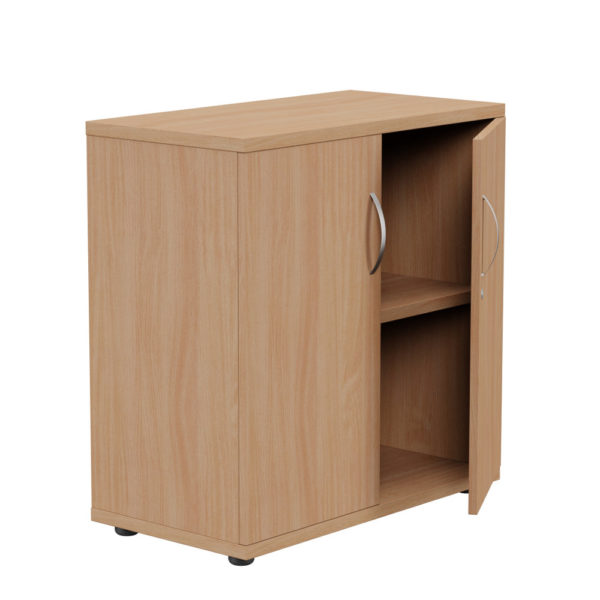 the office and look great when also paired with your Unite office desk and pedestal!
So, it's easy to build a new office space which holds together visually and aesthetically, for a more cohesive whole. Our Unite furniture looks elegant, is practical, and really combines well to bring your work space together as a whole.