AOF | 18 April 2019
Whether you're looking to buy office chairs, office desks, storage or filing, the best way to decide would be the best choice for you is by visiting one of our office furniture showrooms across London, Essex and Northampton. You'll receive a personalised, knowledgeable service, allowing you to try before you buy and find out about the full range of options available. This week, we'll take you on the first of our guided 'grand tours' around our North London showrooms!
Camden Showroom | 229a Camden Road, London, N7 0HR | 020 7609 0737 | [email protected]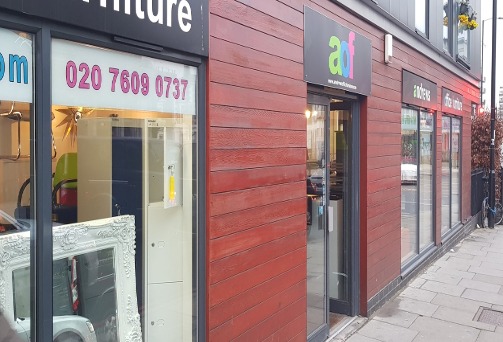 Based on Brecknock Road, just off of the busy Camden Road, our Camden showroom has been serving the public for thirty years and re-opened after refurbishment in 2010. Overseen by showroom/web sales manager Paul Wynn and the home base for Martin & Tommy, our in-house website team, this furniture showroom is spread across two floors with an eclectic choice of new and second hand office furniture.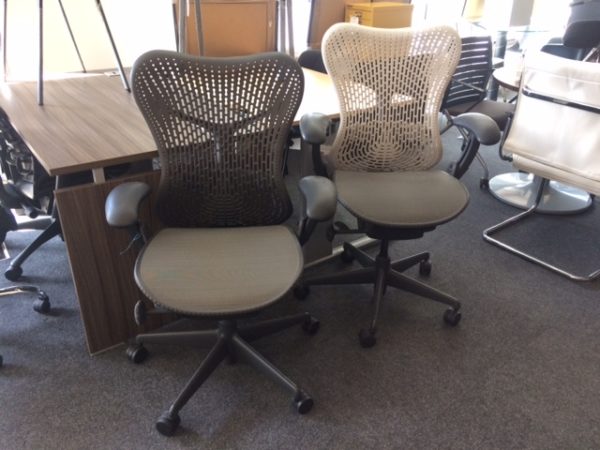 Ranging from used mesh office chairs and meeting chairs, to used office desks, second hand Herman Miller chairs and storage, you'll be certain to find a bargain in the second hand section of this showroom! All in good working order, there is the opportunity to try out the various items on display, letting you gain a better insight as to what works most effectively for your requirements. Alongside the used Herman Miller office chairs, we have office furniture from world-renowned manufacturers such as Humanscale, Orangebox and Steelcase, at a fraction of their normal price, to help you create the ideal office space without breaking the bank.
In contrast, the Camden showroom also has brand new office furniture, storage and filing for you to peruse. Dotted around are office chairs, desks, meeting tables, under desk pedestals, monitor arms and desk screens to view. The office chairs vary in design and materials, from adaptable mesh to fabric operator chairs, right on through to sought-after ergonomic options such as the Enjoy Office Chair and the Mirus Mesh Office Chair, which you can sit down in and test out to your heart's content. Paul, Martin or Tommy will be more than happy to talk you through the chair functions or adjustments and can show you their fabric or mesh colour options, to see what would suit your office space most effectively. We have a variety of wood finishes for the office desks and bench desks, as well as the storage units, so you can get a clearer idea of how they look in an office area set up.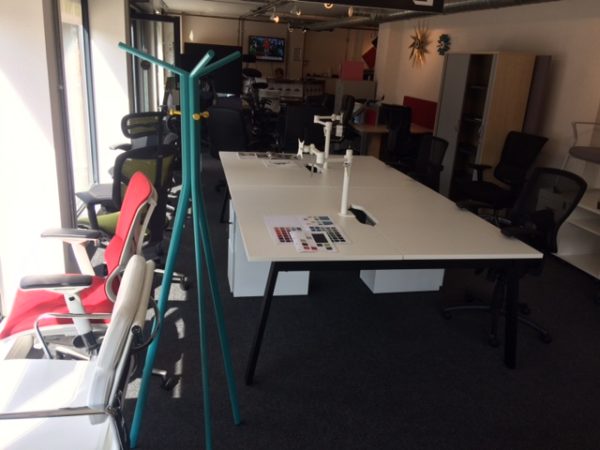 As an official Bisley dealer, we also have an extensive selection fo their storage and filing units, from the popular AOC Filing Cabinets and BS Filing range, to their CLK Lockers, Stationery Cupboards and their newest Essentials storage. Seeing them in person means that you can gauge their size as well as trying out their various functions and features. Storage such as their A4 Multi-Drawer Cabinets, which come in 3, 5, 6, 8, 9, 10 and 15 drawer variations, have seventeen different steel colour options, so seeing them on the showroom floor gives you the chance to see how they might look within your work space.
Cricklewood Showroom | 414 Edgware Road, Cricklewood Broadway, London, NW2 6NH | 020 8452 5331 | [email protected]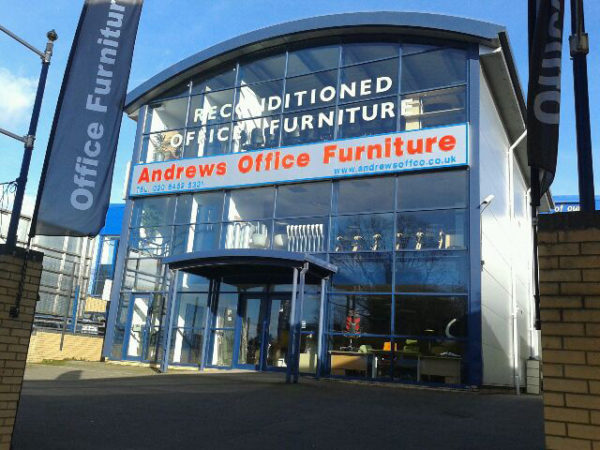 With a generous three floors of new and second hand office furniture, our Cricklewood showroom is located close to Cricklewood railway station and the Metroline bus depot, off of the Edgware Road. Managed by Tom Conlon, along with his sales assistant Ian, there is handy customer parking out the front, making it very convenient if you need to swing by to pick up some office furniture quickly.
This showroom has a vast collection of second hand office furniture upstairs, including used office chairs, used storage and filing, along with second hand bench desks, office desks and boardroom tables to try out. With a constant stream of used office furniture coming in, you'll always be able view a broad range of items to see what suits your office space.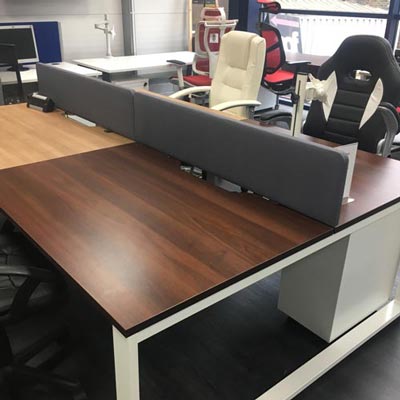 Cricklewood's brand new office furniture on the ground floor provides you with the opportunity to see bench desk and workstation set ups, which helps enormously when deciding on which office arrangement you would prefer for your work space. As with Camden, you'll find lots of different desktop wood finishes, sizes and under desk storage options for the office desks, as well as numerous office chairs to try. The team will be on-hand to help with any questions you may have and can discuss alternative options for you office space, whether it be a filing cabinet colour, a visitor chair base option or even a made-to-order bench desk build.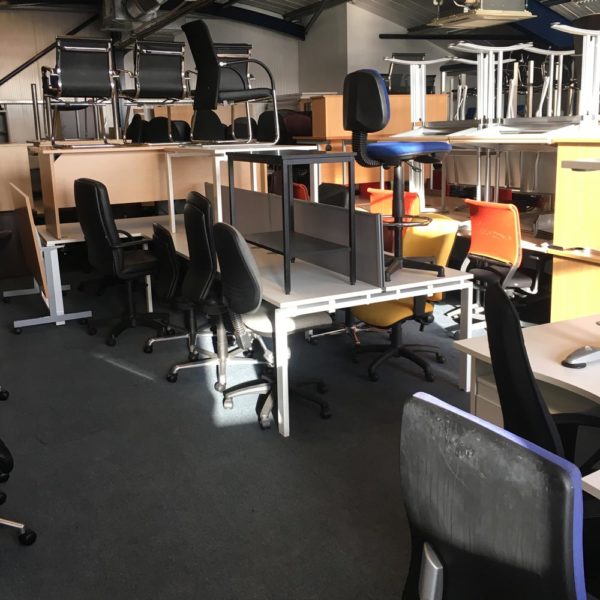 So, come on in and see us at Camden or Cricklewood. Not only will you receive a friendly, reliable service from our teams, you can take the time to try before you buy, which is especially important for office chairs & desks. From our showrooms, you can also arrange deliveries, organise an office space planning project or speak with us about any of our other services, such as office removal and business relocation. Whatever your office furniture enquiry, we'll do our best to meet your personal requirement and needs.